Wildlife Sanctuary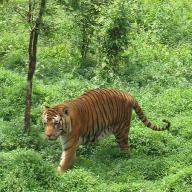 Kanyakumari Wildlife Sanctuary is a 402.4 km2 protected area in Kanyakumari district, Tamil Nadu South India declared in February 2008. The area is a tiger habitat. The area is a wildlife corridor with high biodiversity, and in addition to tigers, is home to the threatened species :Indian Bison, elephant, Indian Rock Python, Lion-tailed Macaque, Mouse deer, Nilgiri Tahr and Sambar deer. There are a few tribal villages in the sanctuary and adjoining reserve forests.

Variety of wildlife can be seen in this division as follows:

Bonnet Macaque, Common Langur or Hanuman Langur, Nilgiri Langur, Slender Loris, Tiger, Leopard or Panther, Jungle Cat, Small Indian Civet, Mangoose, Jackal, Indian Fox, Dhole or Indian Wild Dog, Sloth Bear, Otter, Large Brown Flying Squirrel, Flying Fox, Indian Giant Squirrel, Indian Porcupine, India Hare, Indian Elephant, Gaur or India Bison, Nilgiri Tahr, Chital or spotted Deer, Black Buck or Indian Antelope, Sambar, Barking Deer, Mousse Deer or India Chevrotain, Wild Boar, Pangolin.
Popular Destinations