Muttom Beach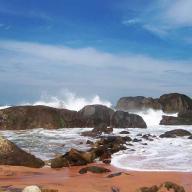 Muttom is a beautiful village with a sandy beach on one side and a rocky beach on the other side. Due to this it attracts a lot of tourists throughout the year. Muttom has a lighthouse due to which its presence is recorded in the international shipping chart. The terrain of this village and its surroundings is hilly and from a height one can see an idyllic view of the place. One can watch both the sunrise and sunset from here. A Portuguese architecture based Catholic Church known as All Saints Church, stands in the middle of the village.

Muttom is a fishing village, located 16 kilometers from the district capital Nagercoil. It is approximately 75 km from the Trivandrum International Airport and 34 km from Kanyakumari.

One of the tragic incidents in the history of Muttom was the Tsunami of 2004, which took the lives of nearly 45 people.
Popular Destinations