Mathur Hanging Bridge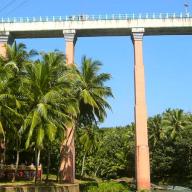 Mathur Aqueduct or Mathur Hanging Trough, is an Aqueduct in Southern India, in Kanyakumari District of Tamilnadu state. It is one of the longest and highest aqueducts in South Asia and is also a popular tourist spot in Kanyakumari District.
The Aqueduct is built across the Pahrali river, a small river that originates in the Mahendragiri Hills of the Western Ghats. Mathur Aqueduct itself carries water of the Pattanamkal canal for irrigation over the Pahrali river, from one hill to another.
Mathur Aqueduct is a concrete structure held up by 28 huge pillars, the maximum height of the pillars reaching 115 ft. The trough structure is 7 ft in height, with a width of 7.5 ft. The trough is partly covered on top with concrete slabs, allowing people to walk on the bridge.
Mathur Aqueduct has become a popular tourist attraction in Kanyakumari District. The tourism department and the local Panchyat office have improved facilities for the visiting tourists. From the centre of the Aqueduct, one can see a vast expanse of greenery, with rolling hills of the Western Ghats in the background, and the meandering Pahrali river flowing below.
Mathur Aqueduct is about 60 km from the popular tourist town of Kanyakumari and about 60 km from the city of Trivandrum, the capital of Kerala state.
Popular Destinations