Vattakottai Fort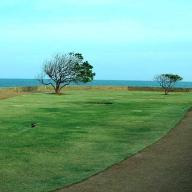 Vattakottai Fort (Circular Fort) is a seaside fort built in 18th century as a coastal defence-fortification and barracks in the erstwhile Travancore kingdom. It was constructed under the command of Captain Eustachius De Lannoy during the reign of Travancore King Marthandavarma (1729-58) in the 18th century.
It is rectangular in shape and covers an area of about three and a half acres. The fort is enclosed by walls 25 to 26 feet high, including the parapet, 29 feet thick at the front, 18 feet at the corners and 6 feet at the rear.
The fort is made of granite blocks and, today, a part of the fort extends into the sea. It is a protected site under the Indian archaeological department. A major renovation of the fort was undertaken recently by the department, and the site is now a popular tourist spot.
Vattakottai Fort is about 7 km from Kanyakumari. The sea is so calm and ideal for a refreshing dip. The small river by the side of the fort, and the green vegetation all around add to the scenery of the fort. Vattakottai Fort is also famous for the black sand beaches that is situated across its coast.
Popular Destinations