Kanyakumari Beach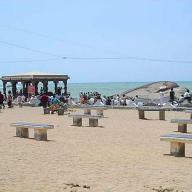 Kanyakumari is located at the southernmost tip of the Indian Peninsula; its former name was Cape Comorin. The Kanyakumari beach is a beautiful sight with multi-coloured sand. The beach here does not really offer one the opportunity to sunbathe on soft golden sands, or to frolic in the waves either. The seashore is rocky and dangerous, and there is a manmade wall running along it. People are warned to stay off the rocks, and when if someone ventures out of bounds, he or she is quickly and severely reprimanded by a watchful policeman. There is a lighthouse from where one can get a panoramic view.

The sea is fairly rough, so it is entertaining to watch it beat itself against the rocks and then subside, before it gathers itself up for another attack. With long stretches of sands of many hues, the beach offers a welcome change. The place is also famous for its distinctly beautiful (reddish) sunrise and sunset. The confluence of three ocean bodies - the Bay of Bengal, the Indian Ocean, and the Arabian Sea - makes the sunrise and sunset even more special. On balmy, full-moon evenings one can also see the moon-rise and sunset at the same time - on either side of the horizon. A variety of shells are on sale on the Kanyakumari beach.

Tamil Nadu State Transport Corporation runs a circular bus to visit tourist sports. Circular bus route - Kanyakumari to Kanyakumari via Vattakottai, Padmanabhapuram palace, Thottipalam, Pechipparai dam, Thirparappu Falls, Muttom beach and Suchindrum Sthanumalayan temple. The bus will start at 7 a.m. just after sunrise and return to Kanyakumari by 6 p.m. so that tourists can also view sunset on sea. The fare per trip is Rs. 200/- for adults and Rs. 100/- for children.
Popular Destinations