Padmanabhapuram Palace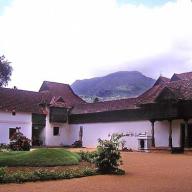 Padmanabhapuram Palace is located close to the town of Thuckalay in Kanyakumari District, Tamilnadu. It is about 20 km from Nagercoil, and about 50 kilometers from Thiruvananthapuram, Kerala. Though the palace is situated in Kanyakumari district of Tamilnadu State, it is administered by the Government of Kerala archaeology department.
The Padmanabhapuram palace complex is inside an old granite fortress around four kilometers long. The palatial mansion is a wooden paradise. The palace is located at the foot of the Veli Hills, which form a part of the Western Ghats. The river Valli flows nearby.
It was once the seat of the rulers of old Travancore or Venad State from the 16th to the late 18th centuries. The palace was constructed around 1601 A.D by Ravipillai Ravivarma Kulasekhara Perumal who ruled Travancore between 1592 A.D. and 1609 A.D. The palace draws hundreds of visitors every day continuously. It is one of the best 10 palaces in the world.
The Padmanabhapuram palace was the ancient capital of the Travancore kings. The palace is known for its planning and military architecture and remained the center of power till 1790, later the capital was shifted to Thiruvananthapuram.
This is famous for its 17th and 18th century murals, carved mahogany ceiling, colored mica windows, secret underground passages leading to a palace 2 km away in case of an invasion, a dining hall that can accommodate 1000 patrons, inner courtyards, durbar hall, museum, four poster medicinal bed, Belgian mirror, granite dance halls and special black shiny floors which are made from a unique combination of egg white, jaggery, lime, burnt coconut, charcoal and river sand.
Photography is charged here. You would need to do a guided tour of the palace complex as it is massive with a maze of 108 rooms, each having its distinct style, mood and artistic expression. Visitors to the palace are not allowed to enter wearing shoes or slippers in order to maintain the polish of the floor. The best time to visit the palace is during the months from November till the end of May. The place is less crowded during the monsoon months of June and July. The palace is open to tourists from 9:00 am to 5:00 pm on all days except Mondays and national holidays.
Popular Destinations