Thirparappu Waterfalls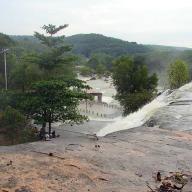 Tiruparappu falls originate from the Kodayar River and cascades some 50-foot down (15 meters) on to a rocky 300-foot-long (90 meters) riverbed. It is about 13 km from Pechiparai Dam.

For about seven months in a year is the fall fully rapturous. The Thiruparappu dam is built on a rocky bed spanning far across the distance covering one fourth of a kilometer in the direction against the water current. Further on, water from the dam is diverted to the paddy fields for irrigation. You can enjoy a bath under the gushing water, and later take a stroll in the area to get different perspectives on the falls.

The District Administration has recently constructed a swimming pool for children over here which is very popular among the children.
Popular Destinations