Vivekananda Rock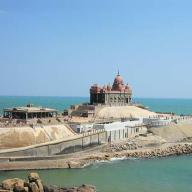 Vivekananda Rock Memorial is located about about 500 meters off the mainland. The views from here are fabulous – you can see the Kanyakumari town spread out on the banks and the colorful fishing boats moored in one part. The sea around has an overpowering presence, its roar blurs every other sound in the backdrop.

It was built in 1970 by the Vivekananda Rock Memorial Committee in honor of their spiritual leader Swami Vivekananda. There is a ferry service to and from the rock memorial from Kanyakumari beach. The terrace is extremely windy and you will have to cross it to get into the various mandapams.

Photography is not allowed and you need to take off your shoes outside the halls. It will be open from 9:00 A.M to 5:30 P.M. Entrance Fee: Rs.20/- for both child and adult.
Popular Destinations