Udayagiri Fort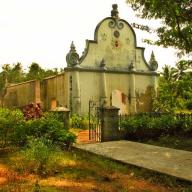 Udayagiri fort is located at a distance of 14 km from Nagercoil town in Kanyakumari District, Tamil Nadu. It had been originally built in the 1600s, and then rebuilt by the King Marthanda Varma of Travancore during 1741-44 under the supervision of Eustachius De Lannoy, a flemish naval commander of the Dutch East India Company, who later served as the Chief of the Travancore Army.
Enclosing an area of about 90 acres (36 ha), with an isolated hill 260 feet (79 m) high, the fort contains an old foundry which was used for casting guns.

This was the most important military barracks of the Travancore rulers, when Padmanabhapuram was their capital. Prisoners captured in the campaign against Tippu Sultan were confined in this fort for some time. The fort is built of massive granite blocks around an isolated hillock.

The tombs of the Dutch Admiral Eustachius De Lannoy, (in whose honour the fort was once called Dillanai Kottai— De Lennoy's Fort), and of his wife and son could be seen inside a partly ruined chapel in the fort.

De Lannoy's body was buried within the fort and a chapel was built at his burial site. De Lannoy's tomb in the fort is marked out by a stone cross planted on the top, with the inscription in both Tamil and Latin. His wife and son were buried by his side.

Recently, officials of the Department of Archaeology found an underground tunnel within the fort. Tourists can see deer, ducks, fountains, birds and over 100 varieties of trees inside the fort.
Popular Destinations