Tiruvalluvar Statue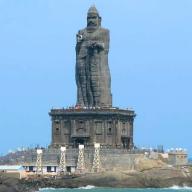 Tiruvalluvar Statue is a 133-foot tall stone sculpture of Tamil poet Tiruvalluvar. The structure stands 400 meters from the coastline on a minor rock, in memory of this noble poet who gave golden words of wisdom through his philosophical work 'Tirukkural' – a treatise in Tamil on the Indian way of life.

The Thiruvalluvar Statue is located on the rock adjacent to the Vivekananda Rock Memorial. The magnificent 133 foot statue denotes the chapters in Thirukkural. It has been opened for tourists visit on January 01, 2000.

Thirukkural enshrines in it 1330 couplets under 133 chapters, each chapter comprising 10 verses. The chapters again fall under three major divisions Virtue, Wealth, and Love.

This monument was hit by the Indian Ocean Tsunami of December 26, 2004.

You can avail the ferry service. You will be partly indoors and partly outdoors. Its location in the middle of the sea makes it extremely windy. It will be open from 8 A.M to 4 P.M.
Popular Destinations