Pechiparai Reservoir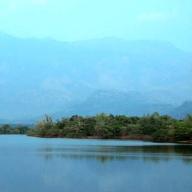 Pechiparai Reservoir is a reservoir located 43 kilometers from the town of Nagercoil, near the village of Pechiparai. The reservoir was formed by the construction of the Pechiparai Dam, which was built across the River Kodayar about a mile below the confluence of the tributaries Kallar, Chittar and Kuttiyar.

It was built during the period 1897 - 1906 by the European Engineer, Mr. Minchin, during the reign of the Travancore Maharaja Moolam Thirunal. The original cost of construction of the dam was Rs. 26.1 lac (in the late 19th century). The catchment area of the reservoir is 207.19 km², and the depth is 14.63 meters. The Dam is a straight gravity type masonry dam of 425.5 M. long and 120.70 M. high above the deepest foundation.

The water from the reservoir is used for both irrigation of crops and for drinking purposes. The reservoir is surrounded by dense forests which are famous for their valuable trees and rich wild life such as tiger, elephants, deer etc. Hill tribes, small in number known as 'Kanikars' dwell in the dense forests around the lake. It is a nice place to mingle with the Mother Nature. The dam is surrounded by hills of the Western Ghats, and is a scenic place.
Popular Destinations