Olakaruvi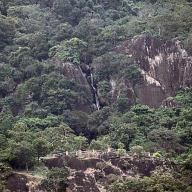 Olakaruvi or Ullakarvi is a waterfall on the Western Ghats hills around 25 km from Nagercoil, Kanyakumari District, Tamil Nadu state.

The falls is up in the middle of forested hills, which is accessible only by foot from the base of the hills. The hour's trek from the base of the hills is through rocky, forested area, which is thrilling in itself. There are two falls - the lower falls, which is a good picnic spot, and the higher falls, which is further uphill.

The view from this spot of the greenery below the hills is exhilarating. Good to have bath and relax for an hour. The water here is cool even during the hot months, though the water flow is less during the summer months.
Popular Destinations