Colachel Beach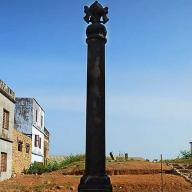 Colachel beach is about 30 km from Kanyakumari. It is tucked away in a breathtaking natural setting of plunging ravines of red soil and lush green scrubs. A lone lighthouse stands sentinel over the bay, adding to its scenic beauty.

Colachel was once witness to the historical Battle of Colachel. This battle was fought on 10 August 1741 between Travancore Maharaja Marthanda Varma's army and the European forces of Dutch East India Company under Flemish Captain De Lennoy. The Dutch forces were annihilated by the Indian troupes, following which they retreated to Indonesia. Interestingly, after their capture the captain was pardoned by the king and was made in-charge to train his forces in artillery and musketry.

Colachel beach opens up stunning views of a tumultuous grey sea stretching into distance, thick palm groves fringing the beach and a misty blue sky. Such is the quietude of the beach that you will find it difficult to believe that only a few years back in 2004 the Tsunami caused a huge damage to life and property.

Popular Destinations